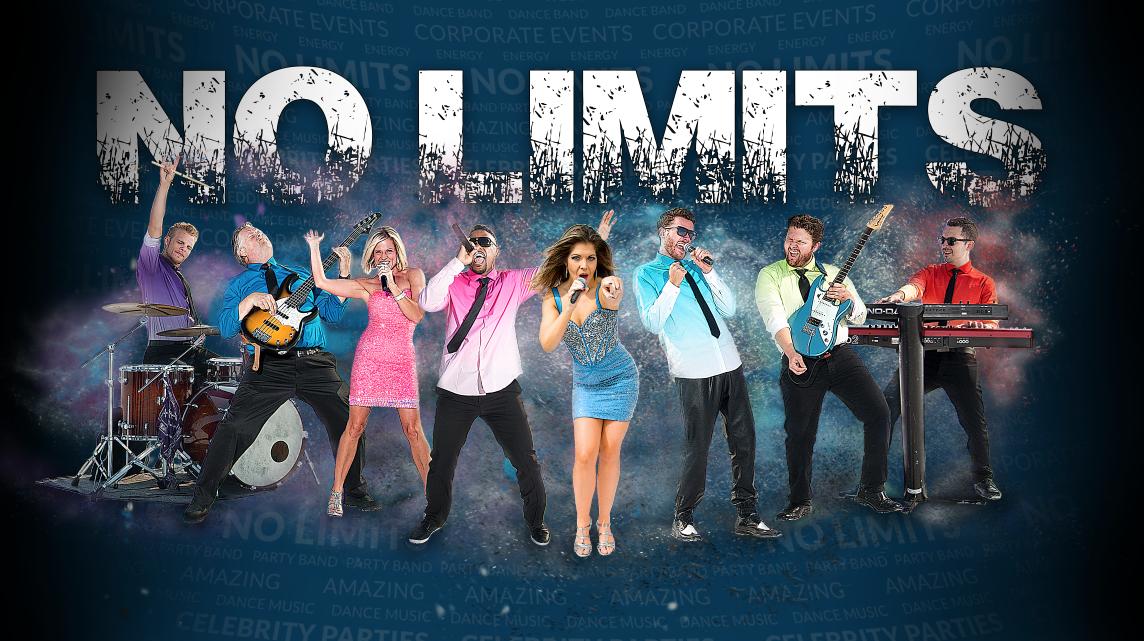 This song list is not exhaustive by any stretch of the imagination. So don't fret if you're favorite is not included here. The band is always adding the latest and greatest songs to this list, so if you don't see it here, chances are they already know it. If there's a particular song that's very important to you, then it's important to the band too, so be sure to ask about it. They just might take the time to learn it so they can play it at your special event.
Ain't It Fun – Paramore
Am I Wrong – Nico & Vinz
Animal – Neon Trees
Animals – Martin Garrix
Applause – Lady Gaga
Back In Black – ACDC
Baila Esta Cumbia – Selena
Beat It – Michael Jackson
Before He Cheats – Carrie Underwood
Best Day Of My Life – American Authors
Best Song Ever – One Direction
Billie Jean – Michael Jackson
Black Horse and the Cherry Tree – K.T. Tunstall
Blame – Calvin Harris ft. John Newman
Blow – Ke$ha
Boot Scootin' Boogie – Brooks & Dunn
Born To Be Wild – Steppenwolf
Breakfree – Ariana Grande
Bye Bye Bye – N Sync
Call Me Maybe – Carly Rae Jeppson
Cannonball – Showtek
Can't Hold Us – Macklemore
Can't Touch This – MC Hammer
Carry On Wayward Song – Kansas
Celebration – Kool & The Gang
Chains of Love – Erasure
China Grove – Doobie Brothers
Clarity – Zedd
Conga – Gloria Estefan
Counting Stars – One Republic
Crazy – Gnarls Barkley
Crazy In Love – Beyonce
Crazy Train – Ozzie Osbourne
Dancing Queen – ABBA
DJ Got Us Fallin' In Love – Usher
Don't Stop Believin' – Journey
Don't You Worry Child – Swedish House Mafia
Dynamite – Taio Cruz
Eight Days A Week – The Beatles
Everybody (Backstreet's Back) – Backstreet Boys
Everybody Talks – Neon Trees
Feel So Close – Calvin Harris
Feel This Moment – Christina Aguilar & Pitbull
Finally – Cici Wynans
Find You – Zedd
Fireball – Pitbull
Firework – Katy Perry
Footloose – Kenny Loggins
Forget You – CeeLo Green
Free Your Mind – En Vogue
Funky Town – Lipps, Inc.
Geronimo – Sheppard
Get Lucky – Daft Punk
Getting Over You – Black Eyed Peas
Ghost – Ella Henderson
Girls Just Wanna Have Fun – Cyndi Lauper
Gonna Make You Sweat – C&C Music Factory
Good Feeling – Flo Rida
Good Time – Owl City & Carly Rae Jeppson
Got To Be Real – Cheryl Lynn
Happy – Pharrell Williams
Heart Of Rock and Roll – Huey Lewis
Heartache Tonight – The Eagles
Heartbreaker – Pat Benatar
Hey Mickey – Toni Basil
Hit Me Baby One More Time – Britney Spears
Hit Me With Your Best Shot – Pat Benatar
Home – Phillip Phillips
Hot 'n Cold – Katy Perry
Hurt So Good – John Cougar Mellencamp
I Feel Good – James Brown
I Gotta Feelin' – Black Eyed Peas
I Like It – Enrique Iglesias
I Love It – Icona Pop
I Love Rock 'n Roll – Joan Jett & The Blackhearts
I Want You Back – Jackson 5
I Want You To Want Me – Cheap Trick
I Will Survive – Gloria Gaynor
I'm A Believer – Smash Mouth
Johnny B. Goode – Chuck Berry
Joy To The World – Three Dog Night
Jump – Van Halen
Just Dance – Lady Gaga
Keep Your Hands To Yourself – Georgia Satellites
Lady Marmalade – Patti Labell
Let's Groove – Earth, Wind, & Fire
Life Is A Highway – Rascal Flatts
Little Talks – Of Monsters and Men
Livin' On A Prayer – Bon Jovi
Locked Out Of Heaven – Bruno Mars
Love Me Again – John Newman
Love Shack – B52's
Love Song – Sara Bareilles
Man! I Feel Like A Woman – Shania Twain
Material Girl – Madonna
Memories – David Guetta Ft. Kid Cudi
Men In Black – Will Smith
Monster Mash – Bobby Pickett
More – Usher
Motownphilly – Boyz II Men
Moves Like Jagger – Maroon 5
Mr. Saxobeat
Mustang Sally – The Commitments
My Songs Know What You Did In The Dark – Fallout Boy
Neon Lights – Demi Lovato
Old Time Rock 'n Roll – Bob Seger
On The Floor – Jennifer Lopez
On Top Of The World – Imagine Dragons
One More Night – Maroon 5
Outside – Ellie Goulding
Party In The USA – Miley Cyrus
Party Rock Anthem – LMFAO
Play That Funky Music – White Cherry
Please Don't Stop The Music – Rihanna
Pompeii – Bastille
Pound The Alarm – Nikki Minaj
Proud Mary – Tina Turner
Push It – Salt 'n Peppa
Raise Your Glass – Pink
Rather Be – Clean Bandit
Real Love – Clean Bandit
Respect – Aretha Franklin
Right Now – Rihanna
Rock and Roll – Led Zeppelin
Rock and Roll Band – Boston
Rolling In The Deep – Adele
Runaway Baby – Bruno Mars
Safe and Sound – Capital Cities
Separate Ways – Journey
September – Earth, Wind, & Fire
Shake It Off – Taylor Swift
Shout Parts 1 & 2 – Isley Brothers
Shut Up And Dance – Walk The Moon
Single Ladies – Beyonce
Smooth – Santana
Some Nights – Fun
Something To Talk About – Bonnie Raitt
Starships – Nikki Minaj
Staying Alive – Bee Gees
Sugar – Maroon 5
Summer – Calvin Harris
Superstition – Stevie Wonder
Sweet Caroline – Neil Diamond
Sweet Home Alabama – Lynyrd Skynard
Sweet Nothing – Florence Welch
Take Back The Night – Justin Timberlake
Take Me Home – Cash Cash
Talking In Your Sleep – The Romantics
Tequila – The Champs
The Club Can't Handle Me – Flo Rida
The Fox – Ylvis
The Middle – Jimmy Eat World
The Nights – Avicci
The Right Stuff – New Kids On The Block
This Love – Maroon 5
Thriller – Michael Jackson
Tighten Up – Archie Bell and the Tendrells
Timber – Ke$ha & Pitbull
Time Of My Life – Bill Medley
Tonight, Tonight – Hot Chelle Rae
Treasure – Bruno Mars
Turn Up The Music – Chris Brown
Twist and Shout – The Beatles
Undo It – Carrie Underwood
Uptown Funk – Bruno Mars
Wake Me Up – Avicci
Walk This Way – Aerosmith
Wanna Be – Spice Girls
Wanna Be Starting Something – Michael Jackson
We Built This City – Starship
We Found Love – Rihanna
We Run The Night – Havannah Brown
What I Like About You – The Romantics
What Makes You Beautiful – One Direction
Wild Ones – Flo Rida
You And I – Lady Gaga
You Belong With Me – Taylor Swift
You Shook Me All Night Long – ACDC
Ain't No Sunshine – Bill Withers
All Of Me – John Legend
Angel – Sarah McLachlan
Apple Blossom Time – Anrews Sisters
At Last – Etta James
Black Velvet – Alannah Myles
Blue Bayou – Linda Rondstadt
Breathe – Faith Hill
Bubbly – Colbie Caillat
Butterfly Kisses – Bob Carlisle
Can't Take My Eyes Off Of You – Frankie Valli
Desperado – The Eagles
Don't Know Why – Norah Jones
Don't Sit Under The Apple Tree – Andrews Sisters
Everything I Do (I Do It For You) – Bryan Adams
Faithfully – Journey
Fallin' For You – Colbie Caillat
From This Moment – Shania Twain
I Can't Make You Love Me – Bonnie Raitt
I Choose You – Andy Grammar
I'm Yours – Jason Mraz
Isn't She Lovely – Stevie Wonder
It's Your Love – Tim McGraw and Faith Hill
Landslide – Dixie Chicks
Lights – Journey
Lucky – Jason Mraz & Colbie Caillat
My Girl – The Temptations
My Little Girl – Tim McGraw
Need You Now – Lady Antebellum
Set Fire To The Rain – Adele
Sittin' On The Dock of the Bay – Otis Redding
Stand By Me – Ben E. King
Stay – Rihanna
Summertime – Standard
Unforgettable – Nat King Cole & Natalie Cole
Valentine – Martina McBride
When I Fall In Love – Nat King Cole OR Natalie Cole
When You Say Nothing At All – Alison Krause
Wonderful Tonight – Eric Clapton
Baby, It's Cold Outside – Colbie Caillat & Gavin DeGraw
Do You Hear What I Hear – Vanessa Williams
Greatest Time Of Year – Aly & AJ
Grown Up Christmas List – Amy Grant
Have Yourself A Merry Little Christmas –Martina McBride
Jingle Bell Rock – Faces Without Names
Please Come Home For Christmas – The Eagles
Rockin' Around The Christmas Tree – Amy Grant
Santa Baby – Madonna
Silent Night – Aly & AJ
The 12 Days of Christmas – Standard
Where Are You Christmas – Faith Hill
Instrumental Dinner & Cocktail Music
All Blues
All Of Me
All The Things You Are
Autumn Leaves
Beautiful Love
Don't Get Around Much Anymore
Fly Me To The Moon
Girl From Ipanema
How High The Moon
I Can't Make You Love
Just The Way You Are
My Funny Valentine
Summertime
There Will Never Be Another You
You Are The Sunshine Of My Life
Your Song
Traditional Mardi Gras Songs!
When you hire the No Limits band, you get a whole lot more than just high quality dance music. When compared to other live party bands they deliver a superior sound and are extremely versatile as well – playing today's current chart-topping hits in addition to everybody's favorites from the 60s through the 90s.
With three talented lead vocalists and some of the finest musicians, you would think their music alone would be enough to excite anyone – and it is. But this electrifying band wants to rock your party like you've never been rocked before, which is why they include dazzling costume changes, high-stepping choreography, brilliant light system, boundless energy, and live performance skills that you have to see to believe.
This amazing party band can do it all. They'll play soft cocktail or dinner music at the appropriate time, and then shift it into high gear when the after-dinner festivities or dancing begins. Plus, they deliver more current chart-topping hits than just about any other band, keeping up with new favorites. When you want to give your guests the Best Party musical experience, Hire No Limits.